North Worcestershire Business Awards deferred until 2021
After much consideration NWedR and NWBL have regretfully made the decision not to run the North Worcestershire Business Awards in 2020 because of the effects of the Coronavirus pandemic.
We have concluded that as things stand at the moment, it is not safe, practical or appropriate to plan a large scale event such as the NW Business Awards this year. Also, of course, we know that our businesses are busy focussing on the immediate weeks and months ahead to meet the current challenges.
We are sad that we won't be able to celebrate and showcase our local businesses in November but we look forward to bringing back the awards in 2021.
North Worcestershire Business Awards: Celebrating the rising stars of North Worcestershire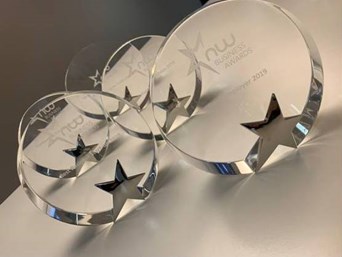 The first ever North Worcestershire Business Awards were launched in 2019 by North Worcestershire Economic Development and Regeneration (NWedR) and North Worcestershire Business Leaders (NWBL).
The awards evening took place on Thursday 28 November 2019 at Hogarths Stone Manor Hotel with more than 170 business leaders from across North Worcestershire attending!
North Worcestershire based businesses were invited to be involved in these prestigious awards – as sponsors, nominators and as potential award winners!
Take a look at last years event including the amazing gallery and highlights video.